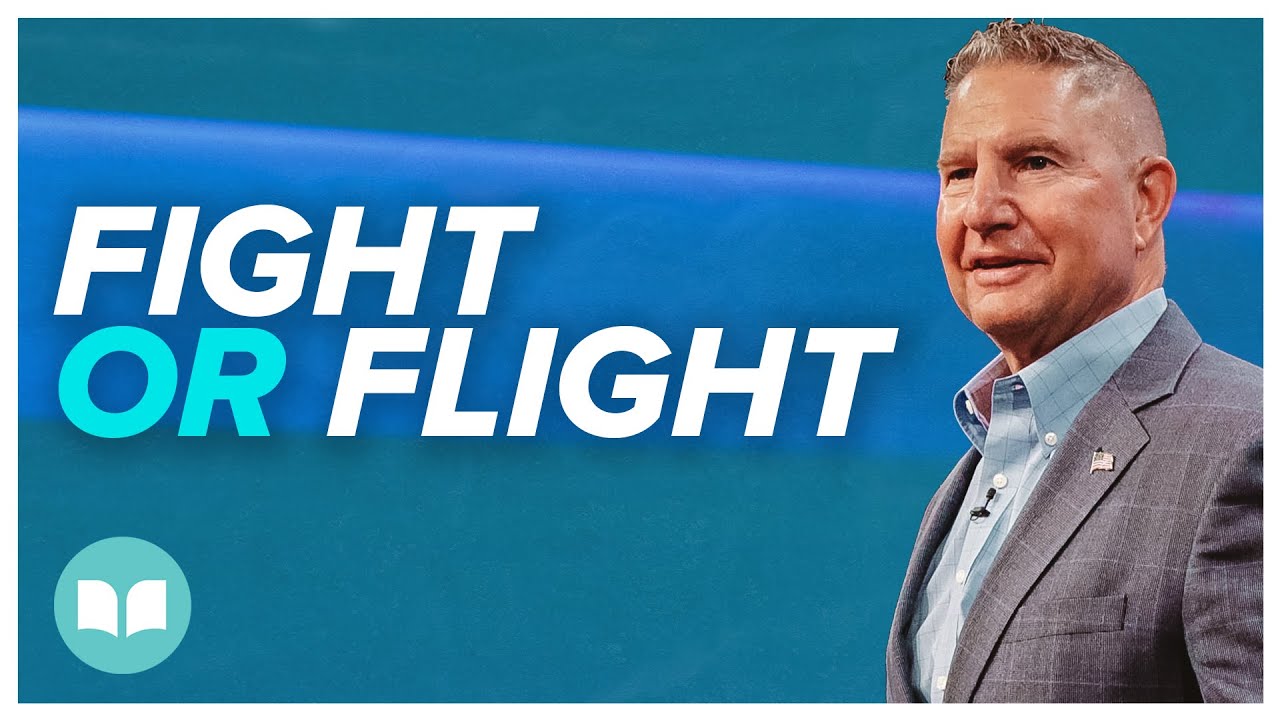 Pastor Russell Kalenberg | May 29, 2022
Recap:
It is clear that so many people in America don't yet know Jesus—and the Church seems to be standing by and letting this lack of knowledge about Jesus spread! It's time for that to change! This past weekend, guest minister Pastor Russell Kalenberg encouraged us to speak up for our faith and shine a light for Jesus in this world. When things get tough, we don't have to flee. We can fight for our faith! God will respond.
Dive Deeper:
Pastor Russell Kalenberg started off this weekend by sharing his testimony. He talked about the miracles that happened recently in his life, not because he threw a pity party for himself, but because he stood in faith for God's promises to become a reality in his life in the middle of difficulty.
His faith and the faith of his family have now been stirred to stand up for God's truth here in America. Instead of sitting idly by and pointing out all the problems in America, we can stand up and point a way to Jesus. That does mean we can do our part. Whether that is going to caucus or calling our senators, we can speak up when we see a place where change is needed. You see, the church has the anointing to set the captives free. Christ in us provides people with the hope of glory, so why would we be silent about that?
We need to be ready to do what David did: in difficult times, be ready to encourage our own selves in the Lord. Don't wait for someone else to do it. You do it. Encourage your spirit in the Lord and put thoughts in your mind of God and His Word rather than fear and worry. Your self-talk can strengthen you in the Lord!
If your voice isn't being heard, someone else's voice is being heard. Why should we sit back and be silent or complain about what is happening around us without doing anything about it? Let's not be ashamed of the Gospel but speak up for truth!
Read About It: 
Proverbs 14:34 NKJV
Righteousness exalts a nation, but sin is a reproach to any people.
Proverbs 29:2 NKJV
When the righteous are in authority, the people rejoice; but when a wicked man rules, the people groan.
1 Samuel 30:1–7 NKJV
Now it happened, when David and his men came to Ziklag, on the third day, that the Amalekites had invaded the South and Ziklag, attacked Ziklag and burned it with fire, and had taken captive the women and those who were there, from small to great; they did not kill anyone, but carried them away and went their way. So David and his men came to the city, and there it was, burned with fire; and their wives, their sons, and their daughters had been taken captive. Then David and the people who were with him lifted up their voices and wept, until they had no more power to weep. And David's two wives, Ahinoam the Jezreelitess, and Abigail the widow of Nabal the Carmelite, had been taken captive. Now David was greatly distressed, for the people spoke of stoning him, because the soul of all the people was grieved, every man for his sons and his daughters. But David strengthened himself in the Lord his God. Then David said to Abiathar the priest, Ahimelech's son, "Please bring the ephod here to me." And Abiathar brought the ephod to David. So David inquired of the Lord, saying, "Shall I pursue this troop? Shall I overtake them?" And He answered him, "Pursue, for you shall surely overtake them and without fail recover all."
Hebrews 2:1–4 NKJV
Therefore we must give the more earnest heed to the things we have heard, lest we drift away. For if the word spoken through angels proved steadfast, and every transgression and disobedience received a just reward, how shall we escape if we neglect so great a salvation, which at the first began to be spoken by the Lord, and was confirmed to us by those who heard Him, God also bearing witness both with signs and wonders, with various miracles, and gifts of the Holy Spirit, according to His own will?
2 Timothy 4:1–7 TPT
Timothy, in the presence of our great God and our Lord Jesus Christ, the One who is destined to judge both the living and the dead by the revelation of his kingdom—I solemnly instruct you to proclaim the Word of God and stand upon it no matter what! Rise to the occasion and preach when it is convenient and when it is not. Preach in the full expression of the Holy Spirit —with wisdom and patience as you instruct and teach the people. For the time is coming when they will no longer listen and respond to the healing words of truth because they will become selfish and proud. They will seek out teachers with soothing words that line up with their desires, saying just what they want to hear. They will close their ears to the truth and believe nothing but fables and myths. So be alert to all these things and overcome every form of evil. Carry in your heart the passion of your calling as a church planter and evangelist, and fulfill your ministry calling. And now the time is fast approaching for my release from this life and I am ready to be offered as a sacrifice. I have fought an excellent fight. I have finished my full course with all my might and I've kept my heart full of faith.
Discussion Questions: 
1. Why do Christians stay silent about their faith?
2. Why is it important to share the answers that we have found in the Scriptures?
3. What is one step you can do today to speak up for truth in the world?
Rewatch or catch up on the full sermon with the link below!